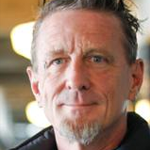 Biography
In 1992, Terrance Alan became an inadvertent cannabis activist after more than 150 SWAT, DEA, CHP and SFPD officer raided his home, pinned him and his lover to the ground with guns in their faces. He had been growing medical marijuana for himself and Randal, his lover of 12 years, under the auspice of Prop P, which recommended marijuana as a treatment to stimulate appetite, reduce nausea and relieve pain. The needlessly aggressive arrest caught the attention of longtime activist (and author of Prop 215) Dennis Peron who used their clear medical use to reduce the charges. Soon after, the SF Board of Supervisors directed the SFPD and District Attorney to make prosecution of medical marijuana cases "the lowest priority".
In 1995, Terrance organized a NYE arts party and Visual Aids fundraiser, in memorium for Randal who had recently died. Over 100 officers raided and abused the guests; so Terrance rallied and filed a class action suit, suing the SFPD and leading to monumental policy change.
In 1996, driven by these intense personal experiences, Terrance help found and create the nation's first non-profit dispensary, CHAMP (Californians Helping to Alleviate Medical Problems), in 1996 after the passage of Prop 215.
In 1998, Terrance organized a series of benefits called FEAST, which the SFPD shut down for lack of a permit, despite four previous highly successful FEASTs that year. The local police captain at the time told Terrance, "If you don't like the law, then change it." So he did.
In 2003, motivated by the SFPD's arbitrary interpretations of the law, shutting down not only mainstay underground events, but also harassing the city's largest nightclubs, Terrance organized a political movement creating the civilian Entertainment Commission, removing permitting for night clubs and special events from the police's highly subjective hands. Terrance was appointed and elected the first President of the Commission and served proudly for 8 years.
In 2009, he founded the California Music and Culture Association (CMAC), a state trade advocate bringing the voice of the patron and the purveyor to the legislation table, where he currently sits as an Executive Board Member.
With the legalization of recreational cannabis in Colorado and Washington and the upcoming CA ballot initiative in 2016, Terrance joined with Matt Kumin and others, to bring his longtime medical marijuana, political, legislative and stage trade association experience to California Cannabis Voice.