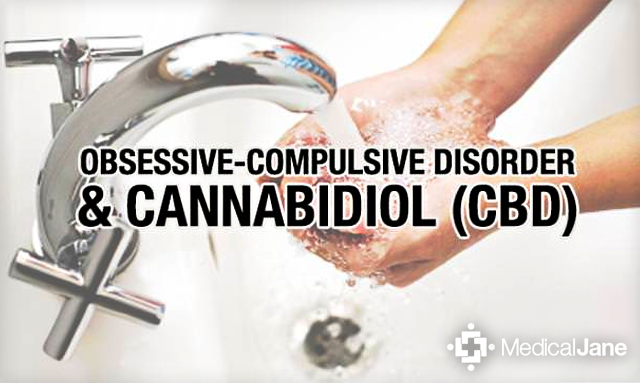 Study: Cannabidiol (CBD) May Help Treat Obsessive-Compulsive Disorder
Brazilian Researchers Investigated OCD & Cannabidiol
As we know, medical marijuana has long been used to help treat various types of anxiety. Cannabidiol (CBD), in particular, has received a great deal of attention for it's anti-anxiety potential and a number of high-CBD products are making their way into the market with increased regularity.
That being said, no two forms of anxiety are alike. One suffering from social anxiety has a vastly different experience than that of a PTSD patient. The same is true of those suffering from obsessive-compulsive disorder.
Their experience is unique – OCD patients have obsessive thoughts and worries that trigger anxiety. The only way to compensate for this anxiety is to act out their compulsions. We all, at some point, question whether we left our front door open; most of us are able to go on with the day, forgetting all about it until later. With OCD patients, however, anxiety levels often skyrocket if unable to complete their compulsions (check the front door in the example above).
Cannabidiol (CBD) Could Help Patients Manage OCD Symptoms
Presently, obsessive-compulsive patients are often treated with selective serotonin re-uptake inhibitors (SSRIs), like the antidepressant Prozac, in addition to psychotherapy. With that said, a team of researchers published a study in the journal Fundamental & Clinical Pharmacologyearlier this month that investigated cannabidiol (CBD) and its ability to help treat rats with OCD.
The research team, which represented the Department of Pharmacology at the University of Sao Paolo, was led by Dr. Francisco Guimarães. First, they administered Meta-chloro-phenyl-piperazine (mCPP) – a psychoactive drug that is often found in ecstasy pills. It is known to induce panic attacks in those prone to having them and has been determined make symptoms of OCD worse. Further, the study adds that mCPP is been known to inhibit the anti-compulsive effects of SSRIs.
"Even a low dose of CBD decreased the marble-burying behavior without a change in the rats overall activity level."
Once mCPP was administered, the researchers conducted a "marble-burying test" with the rats in order to evaluate OCD activity. Low doses of the drug, according to the study, was found to increase marble-burying tendencies in rats, while large dosages seemed to decrease them. There was, however, no difference in noticeable anxiety behaviors.
The researchers then administered two levels (30mg/kg or 15mg/kg) of cannabidiol (CBD) and evaluated the obsessive-compulsive activity in each rat. Interestingly, even a low dose of CBD decreased the marble-burying behavior without a change in the rats' overall activity level.
According to the study, its results reinforce the possible anti-compulsive effect of cannabidiol (CBD). More research will be necessary before CBD is used to treat obsessive-compulsive disorder in a clinical setting, but findings such as these suggest that cannabis may be a valuable tool in OCD treatment.