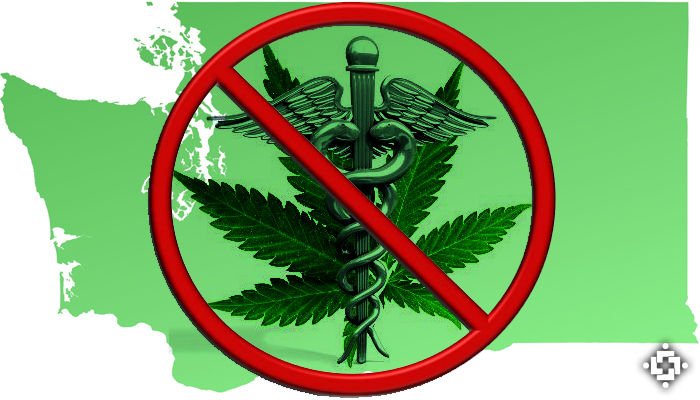 Washington State Representatives Vote To Ban Medical Marijuana Dispensaries
SPOKANE, WA — The Washington House of Representatives voted 67 to 29 Monday to approve a ban on medical marijuana collectives in the state, a move that would relegate patients to adult-use retail facilities when they open this year.
As previously reported, H.B. 2149 would place much tighter restrictions on medical marijuana in Washington State as well.
The measure was introduced by Representatives Eileen Cody (D) in January. Representatives Reuven Carlyle (D), Norm Johnson (R), Laurie Jinkins (D), Dawn Morrell (D), and Sharon Tomiko Santos (D) have each signed on as official sponsors as well.
Washington Representatives Move To 'End Medical Cannabis'
If signed into law, H.B. 2149 would force medical marijuana patients to frequent locations licensed under I-502 in order to obtain their cannabis legally. The law that currently allows collective gardens to operate in the state would be repealed May 1.
Helping maintain the regulations outlined by the measure would be a proposed "patient recognition" system, basically a registry for medical marijuana patients in the state. Only patients who file with the state and adhere to the limits set by H.B. 2149 would be granted immunity from cannabis-related arrests.
"If the Senate votes to pass this bill, Washington will be the first state to end medical cannabis." – Steve Sarich
As written, the measure sets a possession limit of three ounces for medical marijuana patients, a significant decrease from the 24 ounces allowed under Washington's current medical marijuana law.
Allowances for home cultivation, which currently has a ceiling of 15 plants, will also take a noticeable cut under H.B. 2149. The bill calls for a six plant limit for patients who wish to grow their own medical marijuana, and no more than three plants may be mature at any given time.
Included in H.B. 2149 is language that could lead to the exclusion of home cultivation after five years. The Department of Health and the Washington State Liquor Control Board will be required to issue a report by November 15, 2019 that investigates whether home cultivation should be extended.
Steve Sarich, executive director of the Cannabis Action Network, expresses his dismay in an article published Tuesday in Forbes. "Patients are in shock," he explains. "If the Senate votes to pass this bill, Washington will be the first state to end medical cannabis."
H.B. 2149 awaits a hearing in the Washington State Senate.