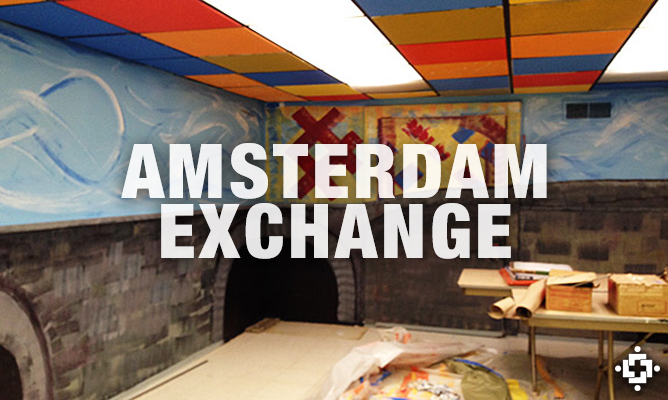 The Amsterdam Exchange: A Taste Of Amsterdam In Seattle
Although Seattle is drawing ever closer to the opening of adult-use dispensaries, entrepreneurs in the medical cannabis community are still opening new medical access points every day. One of the most anticipated openings this week is that of the Amsterdam Exchange, an Amsterdam-style cannabis market located in the Lake City neighborhood of Seattle.
The Amsterdam Exchange is the brainchild of Ryan Kunkel, co-owner of the Have A Heart CC, and Joel Berman. I had a chance to tour the building with the two women in charge of PR, social media, and general information: Jessica Mills and Leah Hatcher.
Amsterdam Exchange: Cannabis Cafe, Farmers Market, and More
Located in a Bavarian-styled building on Lake City Way, The Amsterdam Exchange is setting up in what was previously a freemasonic temple. Local artist Jewels Hawkins is engrossed in repainting the interior: drab walls are now sky blue, slowly being covered in bright, poppy, outdoor scenes reminiscent of Amsterdam's buildings, colors, and famous cobblestone bridges.
The first story of the building will be transformed into a lounge and full-service kitchen for patients to relax, vaporize, and indulge in both medicated and non-medicated bistro foods like soups, salads, wraps, and desserts. The kitchen is alternatively available for rental to edible vendors in need of a commercial kitchen.
According to Mills, there are also plans to create a medical cannabis buffet where patients can pay a flat fee for full access to infused edibles of all varieties.
On the second floor, a cannabis farmer's market will take place daily. Every day from 10am to 8pm, as many as 30 vendors set-up booths for patients to peruse and ask questions about the available wares.
"What we really want to bring to this neighborhood is education for the patient." – Jessica Mills
Oftentimes, the owners and founders of these companies choose to work the booths, allowing patients to get information and education straight from the source.
"What we really want to bring to this neighborhood is education for the patients – a way for patients to come straight to trusted, established companies employing people who can honestly answer patients' questions and ease any concerns that might be troubling them," explains Mills.
She goes on to explain that the goal is to partner with companies that grow their own material or track the origin of their source material. A wide variety of local vendors are already locked in for booths at the daily market, including Platinum Extracts, the CannaChef, Mr. Nice, Green Lion Farms, Reign City Concentrates, and Fox Hollow Farms.
Once the farmer's market closes at 8pm, the second floor transforms into an adult-use night club and dab bar. What are medical display cases during the day convert into lounge tables for the adult-use crowd at night. In addition to live music, DJs, and dancing on a red carpeted dance floor, customers may purchase concentrates at the dab bar; vaping is welcome too.
"The Amsterdam Exchange is dedicated to the safe, honest, and beneficial exchange of medical cannabis," Mills says as we continue to tour the building. "Everything is legitimized – we check authorizations and ID, and patients will be charged sales tax on purchases."
There will also be security present during medical hours and during the hours of the adult-use night club; there will also be a policy of no "over-service" for medical patients or adult-use customers.
The Amsterdam Exchange Offers A Stigma-Free Environment
In addition to running PR and social media for the Amsterdam Exchange, Mills and Hatcher are at the building almost daily to monitor the remodel, watch Hawkins' mural unfold, and keep things running smoothly.
"This is a brand new industry, so why not start off with gender equality?" – Leah Hatcher
"Personally, we're trying to make a name for women," Hatcher explains while Mills tends to a delivery. "This is a brand new industry, so why not start off with gender equality? We want to create a positive image of women. Of course we appreciate the girls in the industry who can model for companies or dress up for events, but we want to show that women can do plenty of great work in other aspects of the industry."
The Amsterdam Exchange echoes this sentiment in its staffing: both men and women are hired to tend the dab bar (affectionately known as "firetenders"). In the past, other dab bars and events have simply employed "torch girls."
Furthermore, one of the biggest missions is to create a stigma-free environment for anybody. Whether a medical patient, adult-use customer, or just coming along for the ride, Mills says everyone is welcome to enjoy this environment, just like any other bar, night club, or concert venue.
The Amsterdam Exchange Opens Its Doors This Week
In order to celebrate the grand opening of the Amsterdam Exchange, they will be holding a Combustion Party on Friday, May 16. Medical authorization and ID are required for entry. Any patients attending the event will receive a raffle ticket for a drawing on opening day, May 17, to win up to $500 for use at the upstairs cannabis market.
Once inside, patients will be able to speak to vendors, receive samples, enjoy live music, and visit several dabbing stations. Patients should bring their own glass and concentrates, but "firetenders" will provide torches. The party begins at 8pm and lasts until it's over.
Once adult-use dispensaries are allowed to open their doors later this year, the Amsterdam Exchange will give customers an experience matched only by a visit to the city itself. Until then, the business has a few months to find its footing with patients, while balancing the unique combination of a bistro and cannabis farmer's market under one Bavarian roof.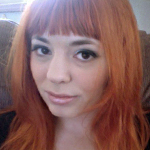 Shelby Dennis
Shelby Dennis is a valid medical marijuana patient who also manages a medical cannabis collective in Seattle, WA.Shelby has always loved writing blogs, essays, articles, short stories, fiction, nonfiction, and everything in between. Her experiences …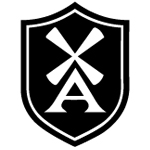 The Amsterdam Exchange
Based in Seattle, The Amsterdam Exchange Farmers Market is dedicated to the safe, honest and beneficial exchange of Medical Cannabis and Medical Cannabis products. The company was founded in 2014.The Amsterdam Exchange combines the qualities …