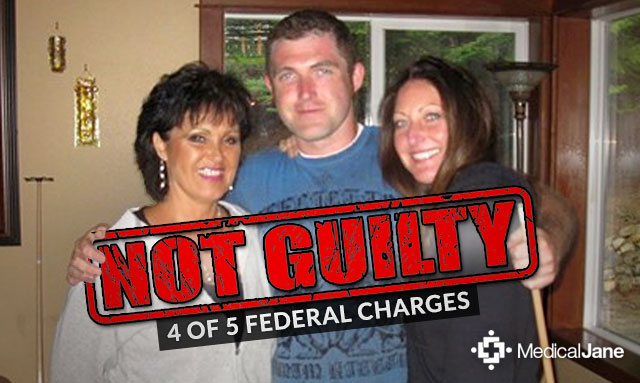 Jurors Reach Verdict in 'Kettle Falls Five' Marijuana Case
In August 2012, the beginning of a tragic ordeal started for Larry Harvey and his family. Their home was initially raided by state authorities, who seized part of their cannabis crop so that the remaining amount would comply with state medicinal cannabis laws.
The family thought they were already within the legal limit. However, federal authorities raided the home a week later, seizing the remaining plants, raw cannabis, a car, firearms, and more. The family was then charged with numerous federal offenses, including growing, possessing, and distributing cannabis.
The Kettle Falls Five
The now famous "Kettle Falls Five" consist of the Harvey family – Larry Harvey, his wife Rhonda Firestack-Harvey, his son Rolland Gregg and his wife Michelle Gregg – and family friend Jason Zucker. All were legal state medicinal cannabis patients and had legitimate qualifying conditions.
Unfortunately, federal laws do not allow for any use of cannabis, so the group was still charged under federal law. In fact, the state of Washington had already decided to not indict the group of patients.
Numerous organizations and publications have followed the Kettle Falls Five throughout their journey, including USA Today, The Huffington Post, and Americans for Safe Access, the latter of which has an entire page dedicated to them.
The Trial
By the time the federal trial began on Wednesday, February 23, 2015, the Kettle Falls Five had shrunk by two members. Zucker took a plea deal and agreed to testify against the family in exchange for a reduced sentence. In a small show of compassion, or to more effectively hide the fact this was a medical cannabis case, charges were dropped against Larry Harvey, who recently was diagnosed with Stage IV pancreatic cancer.
Before and during the trial U.S. District Judge Thomas O. Rice and prosecution did everything in their power to hide the fact that the Harvey family was using cannabis for medicinal purposes. Since cannabis is a Schedule I drug with "no accepted medical use", the family was not allowed to use that as a defense. The prosecution's extensive efforts to keep this information secret were reprehensible.
Thankfully, the family was found "not guilty" on four of the five charges by the jury. However, they could still face some jail time for the manufacturing charge, but far less than if they were found guilty for distribution.
What's Next for the Kettle Falls Five
It is hopeful the penalties for the family will not be too severe. There is even a chance the case could still be dropped. Americans for Safe Access has organized a petition to convince Attorney General Eric Holder to end this prosecution immediately.
A statement from Rolland Gregg on the Kettle Falls Five Facebook page perfectly expresses both the essence of this case and what the family may face in the future.
"The jury was lied to by the Feds. We [were acquitted] on 4 charges (even while the judge played along with the US attorney's lies) and were convicted on 1 [charge], manufacturing over 50 and under 100 marijuana plants. Sentencing is June 10, could be around 6 months in jail and a felony drug charge for being a medical marijuana patient. If the jury knew the truth, they probably would have acquitted on manufacturing too. Lets use our collective voice to tell this truth. Lets force the DOJ to stop this prosecution. Shame on the government for pursuing these charges and for the DOJ to allow the continued prosecution. The fight is not over, more battles to come and to win."
What do you think? Would the jury have acquitted these patients on all 5 charges if they were told it was medical marijuana they were manufacturing? Let us know in the comments below…