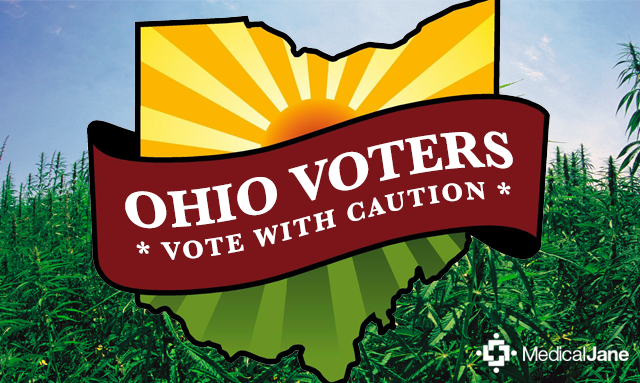 Upcoming Ballot Initiatives Determine The Fate of Cannabis in the Buckeye State
On Nov 3, Ohioans are being asked to vote on ballot initiatives deciding the fate of legalizing medical and recreational marijuana at the same time – at least for now. Depending on the outcome, lawsuits are sure to ensue, and the final decision could be tied up in the courts for years.
State Issue 3 "Grants a monopoly for the commercial production and sale of marijuana for recreational and medicinal purposes"
Earlier this year, the pro-legalization group ResponsibleOHio filed a petition calling for an amendment to the Ohio Constitution to legalize marijuana. If Issue 3 were simply a question of supporting legalization of marijuana, polls show a majority of Ohioans would say "yes." However, it is not that simple.
Opponents believe the motive behind Issue 3 has more self-serving interests and the real purpose of the initiative is to grow a monopoly (though, technically, a market controlled by a small number of wealthy beneficiaries is more properly called an "oligopoly"). This is because within the language of the filing, only ten parcels in the state on which commercial marijuana would be exclusively grown are already designated to a small group of at least 22 private investors (designer Nanette Lepore, Barbara Gould, Paul Heldman, Woody Taft, Dudley Taft Jr., Frank Wood, Rick Kirk, William J. Foster, Frostee Rucker, basketball hall of famer Oscar Robertson, Dr. Suresh Gupta, Sir Alan Mooney, Bobby George, Tony Giardini, David Bastos, Jennifer Doering, Brian Kessler, former boy-band star Nick Lachey, William "Cheney" Pruett, John Humphrey, Keith Orr, and Dwight Pruett), each who have allegedly contributed at least $4 million to nine limited liability corporations tied to ResponsibleOhio.

"Let's hop on this tsunami of money and ride the top of that wave to some enrichment for us." – Sir Alan Mooney
Opponents say the fatal flaw of Issue 3 is that although Ohio voters deserve the opportunity to choose whether they want to legalize marijuana, they should not be forced in the process to make a small group of wealthy people enormously richer.
State Issue 2 "Anti-monopoly amendment; protects the initiative process from being used for personal economic benefit"
This controversial section of ResponsibleOHio's initiative prompted State Issue 2 in an effort to block the plan. If approved, the amendment will prohibit any proposed constitutional amendment appearing on the Nov 3 ballot that creates a monopoly, oligopoly, or cartel…from taking effect. This is where it gets complicated. If both issues pass, Ohio Secretary of State Husted has stated that Issue 2 would invalidate Issue 3, but this claim is denied by the amendment's supporters.
The Crux of Issue 3
If passed, Issue 3 would:
allow patients with debilitating medical conditions to acquire, administer, purchase, possess, transport and use, and licensed caregivers to acquire, administer, purchase, possess, and transport, medical marijuana (dispensed and sold only by licensed, not-for-profit medical marijuana dispensaries) pursuant to a valid medical marijuana certification

allow persons 21 years and older to purchase, transport, use, and share with another person 21 years and older one ounce or less of marijuana or its equivalent in marijuana-infused products

allow persons 21 years and older to grow (in an enclosed, locked space and an annual fee not to exceed $50 – adjusted annually for inflation), cultivate, use, possess and share with another person 21 years and older homegrown marijuana in an amount not to exceed four flowering plants and 8 ounces of usable homegrown marijuana

create a special flat tax rate of 15% on all gross revenue of each marijuana growth, cultivation and extraction facility (MGCE) and marijuana product manufacturing facility (MPM) and 5% on all gross revenue of each retail store, with 15% of revenues generated allocated to a Marijuana Control Commission Fund

endow exclusive rights for commercial marijuana growth, cultivation and extraction to 10 predetermined parcels of land (MGCE facilities), with one additional grow facility being allowed in four years only if existing facilities cannot meet demand

allow MPM facilities to manufacture, process, and package marijuana-infused products (made only from marijuana purchased from MGCE facilities) and marijuana accessories

legalize marijuana (purchased only from MGCE facilities) and marijuana-infused products (purchased only from MPM facilities) to be sold by licensed retail marijuana stores to persons 21 years and older

create the Ohio Marijuana Control Commission tasked with regulating the system and adopting rules to facilitate implementation and continuing operation, and establishes a marijuana

innovation and business incubator

to award support to colleges, universities and businesses for research, as well as to create new products, companies and jobs at their discretion
Pandora's Box Has Been Opened
It is no secret that Gov Kasich's views on marijuana are so skewed that he has equated it with heroin and stated that he is "totally opposed" to legalization. And, unfortunately, the divide has opened up Pandora's box for anyone opposing legalization overall to use the "monopoly" card to continue the mania of Reefer Madness.
"I'm totally opposed to it, because it is a scourge in this country." – John Kasich, Ohio State Gov
For example, this article in The Blade starts off by saying the Ohio Nurses Association announced its strong opposition to "State Issue 3, which would give a small group of self-selected investors a monopoly over the cultivation and sale of marijuana in Ohio" but goes on to quote the CEO for the organization as saying "There is no way around it-easy access to marijuana will lead to incredible health risk for children and the potential for catastrophic health outcomes that we cannot risk." Or, Ohio Manufacturers' Association and others who have launched objections with a tagline "Stop the marijuana monopoly. Keep marijuana away from our children. Vote NO on Issue 3." And, the list goes on and on. Even some die-hard supporters of legalization are rejecting the legalization measure, saying it is nothing more than a business plan and has nothing to do with individual rights, but more about return on investment.
Outcome in Ohio May Influence the 2016 Presidential Elections
There are plenty of other states looking to go to the polls to vote on legalization in 2015, but all eyes are on Ohio since it is a swing state in elections, and we are getting a lot closer to 2016. If Ohio passes this legalization, it could possibly signal what way voters are thinking of going in 2016 in terms of electing our next Commander in Chief. For now, the battle continues, and whether it passes or fails, it's clear both sides are not prepared to give up.
Some Ohioans say, pass now, go to court later to change the wording or legality of the monopoly aspect, but many are also opposed to ResponsibleOHio's plans, and that is going to be the hurdle to get over. It will also be interesting to see what the impact of this will be on the upcoming election. Regardless of the outcome, the issue isn't going to go away any time soon.