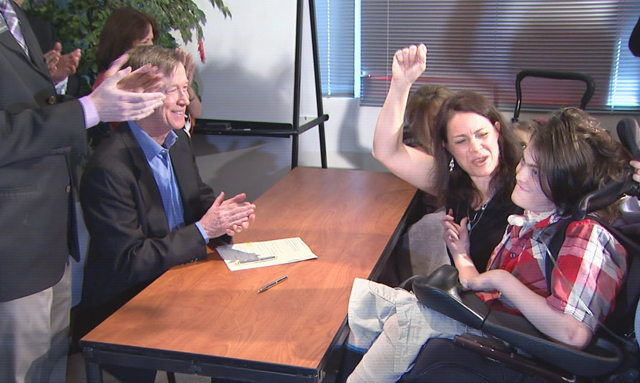 "Jack's Law" Allows Colorado Students to Receive Medical Marijuana at School
Colorado Gov John Hickenloopersigned "Jack's Law" on Monday which allow students to receive medical marijuana treatments on school property. The new law allows any preschool, primary or secondary student in Colorado, who holds a valid recommendation for medical marijuana, to receive non-smokable cannabis treatments at school, on the bus or at a school sponsored event.
A designated caregiver (usually a parent or private caregiver) must bring the medication to the student, administer it without creating a distraction, and then remove all excess medication. Students themselves will continue to be banned from possessing cannabis in any form on school property. School district personnel will not be required to administer the medication to students.
The bill was inspired by a boy named Jack Splitt. Jack has cerebral palsy and suffers from debilitating spasms and has found relief with medical cannabis. So when his school confiscated his medicine claiming it was a controlled substance, Jack and his mother Stacey Linn took their fight to the state Capitol. Their efforts helped to pass a law last year that allowed caregivers to administer cannabis to children at school, but schools soon found a loophole in the process. Jack and his mom continued their battle.
With the aid of Rep. Jonathan Singer, another bill was introduced this year making it clear that the treatment was not an option, but a necessity, for students like Jack. When Jack's mother testified, lawmakers stood in honor of the courage of these families. Also testifying was Amber Wann and her son Benjamin. Benjamin's school called Child Protective Services when they found he was taking hemp oil for seizures. Now the school district is writing a policy named after Benjamin.
"Kids don't have the benefit of time when they're sick and when they need to go to school, we need to do everything we can to make sure we provide everything we can to provide reasonable accommodations" -Rep. Jonathan Singer
Under House Bill 1373, Colorado school districts need to provide reasonable accommodations to students who require medical cannabis, and prohibits school districts from disciplining a student who is enrolled in the state's medical marijuana program. Further, a school district or charter school may not deny enrollment to students who use medical cannabis as a treatment.
The new law does, however, allow a school district to claim it does not apply to them if they can reasonably show that they have lost federal funding as a direct result of enacting such policies, or can show that they chose to opt out by posting on the school website, in an easily seen or noticeable place, a statement regarding its decision not to comply with the new law. Time will tell if this is yet another loophole.
The new law takes effect immediately, and school districts are expected to have policies in place to accommodate medical marijuana use by students in time for the beginning of the next school year.
House Bill 1373 was approved by a vote of 56-9 in the House, and won unanimous approval in the Senate.
According to the most recent data provided by the state of Colorado, as of April 2016, there are 350 minors currently enrolled in Colorado's medical marijuana program.
UPDATE: Just two months after their triumph, Jack Splitt lost his battle with cerebral palsy and the brutal pain that accompanied it. On August 24, 2016, Jack suddenly passed at the age of fifteen. He is warmly remembered for his charming smile, his sense of humor, and his thirst for learning.