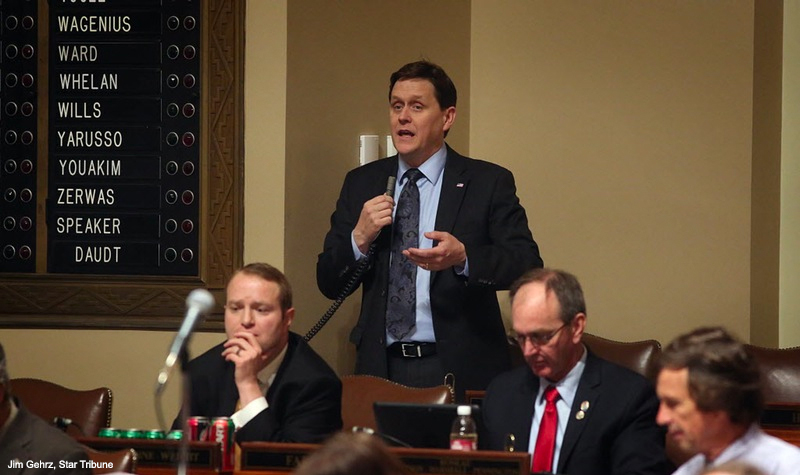 Minnesota Lawmaker Wants to Strip Powers from Health Commissioner
When lawmakers in Minnesota enacted one of the most tightly regulated medical marijuana programs in the country in 2014, they included a limited list of qualifying conditions, but allowed the state's health commissioner, who oversees the program, to add additional ailments as needed.
Lawmakers also made Minnesota the first state to explicitly ban smoking marijuana, outlining specific delivery methods in the legislation. However, the law allowed the health commissioner to authorize additional medication methods for patients.
Now, one Republican lawmaker, former House Majority Leader Rep. Matt Dean (R-Dellwood), has filed legislation that would strip the commissioner of those abilities. Rep. Dean's bill, House File 120, if passed, would accomplish just that.
Even though Minnesota's medical marijuana program is one of the most stringent in the country, Dr. Ed Ehlinger, the current Minnesota Commissioner of Health, has used his authority to add conditions sparingly, and has not approved any medication methods beyond what was included in the original bill.
Because HF 120 doesn't add any language to the state's medical marijuana law — it simply strikes out the phrase "or any other medical condition or its treatment approved by the commissioner" — it is possible that two ailments added by Dr. Ehlinger previously would no longer be authorized for medical marijuana use in the state, as they are not written into state law.
In 2015, intractable pain was authorized for medical marijuana use, and in December of last year, Dr. Ehlinger announced that post-traumatic stress disorder (PTSD) would be added to the list of qualifying conditions that already includes cancer, glaucoma, HIV/AIDS, Tourette syndrome, amyotrophic lateral sclerosis (ALS / Lou Gehrig's disease), seizures (including epilepsy), severe and persistent muscle spasms (including multiple sclerosis), inflammatory bowel disease (including Crohn's disease), and any other terminal illness where a patient has a probable life expectancy of less than one year.
Rep. Dean, who chairs the House Health and Human Services Finance Committee, told Minnesota Public Radio that the legislature should make decisions, not the commissioner. His goal is to prevent any changes or modifications to the 2014 law passed in the state.
"There is a slant toward expansion of legalization of marijuana, of different ways that you can get marijuana for different stuff," Dean said. "That's going to keep expanding until you can smoke it, until it's legal for recreational use. That's the glide path we're on."
Rep. Dean added that he expects the bill to move quickly through the state legislature before the session ends in April.
Marijuana reform advocates have long pushed for lawmakers to let the decision on what ailments should be treated with cannabis therapy to medical professionals. In a perfect world, this should be a private conversation between a doctor and patient, with the doctor deciding what ailments are best treated with medical cannabis.
At the very least, lawmakers should defer to those medical professionals charged with overseeing state medical marijuana programs to make those decisions. But Rep. Dean, who has a degree in architecture, thinks it's better that the state's chief medical official, a physician with an extensive background in medicine and education, is stripped of his ability to further help patients find alternative treatments that work for them.