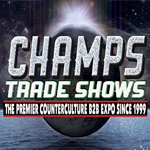 About this Event
Founded in 1999, Champs is a business-to-business wholesale trade show for the glass and ancillary product industries. They hold two events (Fall and Spring) at the Las Vegas Convention Center each year. There are also stops in Atlantic City and Denver.
The Champs Trade Show's rise in popularity is largely due to their Glass Games, which allow glass artists an opportunity to compete for over $50,000 in cash and prizes. Further, the event dedicates an entire "ArtiZen" section of the show room to non-functional glass art for those interested in pendants, goblets, marbles, and more.
The 30th Champs Trade Show will be held at the Las Vegas Convention Center January 21-23.
Latest Video
You can learn more about the event at their website: http://www.champstradeshows.com/.
Event Hours
TUE JAN 21

11:00 AM

- 8:00 PM

WED JAN 22

11:00 AM - 8:00 PM

THU JAN 23

11:00 AM -

8:00 PM
In The News
RECAP: Cannabis Ancillary Businesses Gather In Las Vegas For CHAMPS
LAS VEGAS, NV — Business owners and glass blowers from all corners of the US gathered this week at the Las Vegas Convention Center for the 30th edition of the CHAMPS Trade Shows. Despite being overrun by the World of Concrete (yes, that exists), the event offered canna-business professionals a laundry list of benefits. Further, CHAMPS offered glass blowers an opportunity to compete for a total of more than $50,000 in cash and prizes. It's for these reasons, and all the parties surrounding it, that CHAMPS Trade Shows …
Las Vegas Convention Center Hosts 30th Edition Of The Champs Trade Show
LAS VEGAS, NV — In what will be the second leg of a busy week for cannabis industry professionals and glass artists alike, the Las Vegas Convention Center is set to host one the industry's premier business-to-business (B2B) trades shows. Founded in 1999, Champs Trade Shows has earned a representation as the go-to event for those attempting to build lasting relationships in the cannabis and glass industries. It provides a venue for the leading ancillary businesses to cross paths with retail store owners, material …