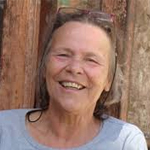 Biography
Mila Jansen is the Founder of Pollinator Company Amsterdam. She has been nicknamed the Hash Queen for her prowess in terms of ice water extractions.
Being known for her knowledge in the realm of solvent-less extracts, Mila is often sought out as a mentor and/or source of knowledge. In fact, Nikka T traveled to her home in Amsterdam around 2003 to study the art of hash making.
Companies
Pollinator Company Amsterdam
Founder
The Pollinator Company was founded by Mila Jansen (aka the Hash Queen). The company manufacturers equipment that can be used to perform ice water and dry sieve extractions. In addition to the "Pollinator," the company also sells the "Bubblelator" and "Ice-O-Later" products.
In The News
Nikka T, Essential Extracts: Sharing Trade Secrets
Nikka T's Consulting Work Benefits The Cannabis Industry For those in the know, Nikka T, owner of Essential Extracts, is associated with some of the best hash in the world. Rightly so, his signature solvent-less wax was a major hit at the first annual US Cannabis Cup in Denver. We had the pleasure of setting up the Medical Jane booth next to Nikka T's Pink House booth and can vouch for the quality of his …