Ghost Train Haze #1: Rare Dankness Grown By Kyle Kushman
Ghost Train Haze #1 is a strain that we have been searching for since we heard of Rare Dankness Seeds, and is a best seller of theirs.
This wonderful sativa-dominant hybrid was made by crossing the original Ghost's OG with Nevil's Wreck (E32 Acarta Trainwreck x Neville's Haze F3 BX2). Rare Dankness offers a series of Ghost Train Haze (GTH) cuts (1, 2, 5, 8, and 9) that are all "clone only" varieties with Nevil's Wreck as the common denominator. They have the Ghost Cut(GTH #1), the SFV cut, Poison OG cut, Hells Angel OG and a few others.
This Ghost OG cut of the Ghost Train Haze was brought to the West Coast and grown out by a master grower by the name of Kyle Kushman. Using his proprietary technique he's termed 'Vegamatrix', Kushman has provided us with some of the best flowers we have come across to date.
Kyle Kushman's Vegamatrix style of growing is special because it utilizes plant derivatives as nutrients instead of animal derivatives or chemicals. He claims that his veganic method of growing produces plants that are "just as big, just as healthy, and the potency is just off the charts." The one thing that is really apparent when smoking these veganic buds is the smoothness of the smoke. According to Kushman, this is because "There's no residue left over after veganic nutrients metabolize, simply complex carbohydrates." Kushman concludes by explaining that, "Very low salts and nearly undetectable levels of heavy metals, make this the cleanest, most helpful medicine."
Ghost Train Haze Is A Top-Shelf Sativa-Dominant Hybrid
Ghost Train Haze #1 has a structure indicative of a Sativa, but the buds are dense and not airy at all. More notably, these light green buds were so covered in trichromes that they almost look white. The smell was the other thing that really stood out to us with the Ghost Train Haze #1; it filled the room every time we opened the jar. It has the fresh Sativa smell similar to Jack Herer but with more of a citrus, menthol overtone. When vaporizing, the smell transfers perfectly to the taste, and the flavor of citrus is more noticeable upon exhale. A floral, citrus taste remained in my mouth for minutes after the session.
At lower doses I found it very easy to focus my thoughts, experienced an uplifting body buzz, and noticed some comforting pressure behind my nose and eyes. At higher doses and temperatures out of the vaporizer, more euphoric, hazy effects began to set in and I found myself drifting off into deep thought while staring at things for extended periods of time. It became hard to focus on doing my work, but effortless things like cooking breakfast were enjoyable because of the mindless state I was in. Needless to say, getting off the couch was not an issue.
This is a great wake-n-bake strain if you want to relax and drink a cup of coffee on the front porch. However, if you are medicating during the day and need to get work done, be sure to vaporize at lower temperatures and stick to smaller doses. The Ghost Train Haze #1 is perfect for anyone who needs a pick-me-up during the day, but maybe not for those with insomnia or anxiety (because of the deep thought). Again, small dosages is key with this strain unless you are trying to get lost in your thoughts.
Veganic Ghost Train Haze Available At Buds & Roses Collective
The Kyle Kushman Veganics are available exclusively at Buds & Roses Collective in Los Angeles, so if you are in the area be sure to stop by. At the Los Angeles Cannabis Cup this year they took home 2nd place in Best Sativa for this Veganic Ghost Train Haze #1, 2nd place in best hybrid for the Veganic Tahoe OG, 1st place in best hash for their Lemon OG Solvent-less wax by BAMF Extractions, and 3rd place for best edible for their Strawberry Lemonade by The Venice Cookie Company. At the Denver Cannabis Cup they won 1st place for their Veganic Girl Scout Cookies, 2nd place for their Veganic Strawberry Cough, and 3rd place for best US Hash for their Lemon OG Solventless Hash by BAMF Extractions.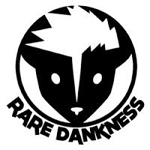 Rare Dankness
Rare Dankness is a cannabis breeding company based in Denver, CO. The company was founded by Scott "Moonshine" Reach in 2011 burst onto the scene at that year's Cannabis Cup, winning 1st place for best …