view full HD gallery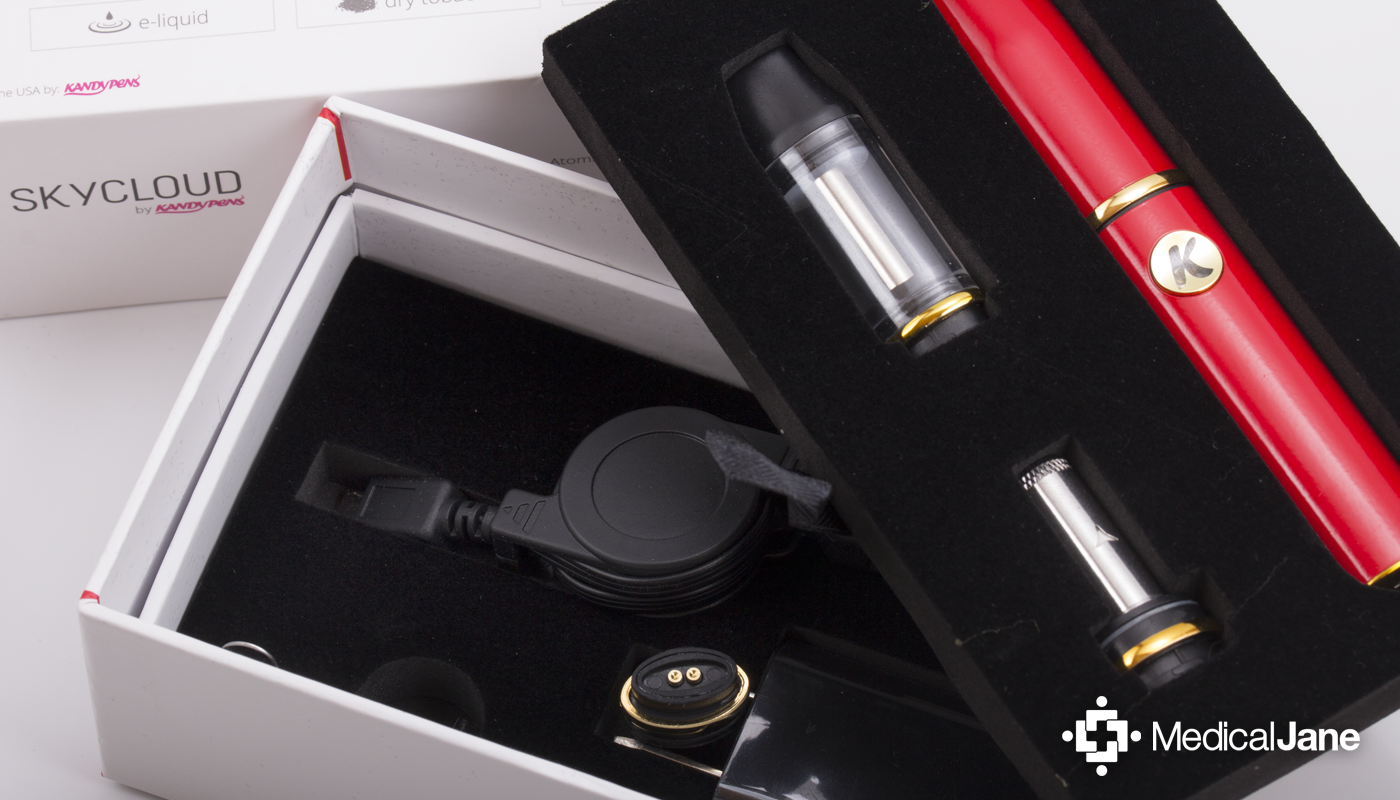 Portable Vaporizer Review: SkyCloud Vape By KandyPens
The SkyCloud Is A Multi-Functional Vaporizer Pen
I have reviewed a lot of vaporizers on Medical Jane in the past couple of years. As of late, more and more vaporizer pens are making their way to the forefront to meet the high demand of people looking to vape on the go.
New to the industry and looking to make a name for themselves is a California based company known as KandyPens. Their first offering includes what they are calling "the world's first multi-functional vaporizerpen," boasting its ability to vaporize e-liquids, concentrates, AND dry-herbs.
The SkyCloud By KandyPens: Available In 15 Colors
With over 15 different color combos to choose from, the SkyCloud vaporizer from KandyPens is one of the most visually appealing vape pens on the market. The SkyCloud is available in hot pink, chrome, turquoise, lime green, purple, chrome, gold, blue, black rubber, black (w/ gold), black (w/ silver), white (w/ gold), and white (w/ silver). Talk about a lot of color options… You should have absolutely no problem finding a pen style that suits your personality.
Each SkyCloud Vaporizer package includes:
1 pc. SkyCloud Concentrates Atomizer
1 pc. SkyCloud E-liquid Atomizer
1 pc. SkyCloud Dry Herbs Atomizer
1 pc. Lithium Ion Battery
1 pc. USB Charging Kit
1 pc. User Manual
1 pc. Applicator Tool
How To Use The SkyCloud Vape By KandyPens
As with most vaporizer pens currently on the market, the SkyCloud utilizes a 3-piece system in which the vape is constructed using a rechargeable battery, an atomizer, and a mouth-piece cover. Regardless of what you are trying to vaporize (dry herbs, oils, or soft concentrates), KandyPens has created a unique atomizer for any situation. Simply pull apart your pen and replace the center, plastic atomizer piece with your desired attachment.
Powering Up Your SkyCloud Vaporizer:
Press the power button 5 times in a row for power up
Press the power button 5 times in a row for power down
Power button will flash each time it is powered up or down
Power button will also light up while being enjoyed/in-use
Recharging Your SkyCloud Vaporizer:
Plug the charger into any AC outlet
Plug the charger cable into the base of the SkyCloud battery
Charge battery 4-6 hours for full charge
Red light will show while charging
Red light will turn off after charge is complete
For Vaporizing E-Liquid or Essential Oils:
Attach E-Liquid Atomizer to batter
Remove the mouthpiece (top)
Full up the liquid chamber (not on coil) with your favorite e-liquid or essential oil
Apply one of two drops of liquid on coil to prime the coil
Press the power button and take slow and steady draws
For Vaporizing Concentrates:
Attach concentrates atomizer to battery
Remove tank cover if connected
Use applicator tool to place your concentrates inside the filling chamber
Reconnect the tank cover
Press the power button and take slow and steady draws
For Vaporizing Dry Herbs:
Attach dry herbs atomizer
Remove tank cover if connected
Unscrew top of atomizer and fill with dry herbs of your choice
Reconnect the top of the atomizer and tank cover
Press the power button and take slow and steady draws
All products by KandyPens are backed by a Lifetime Warranty which covers the battery from all workmanship and/or manufacturing defects. This warranty does not cover the detachable atomizers. This is an issue as most detachable atomizers will need to be replaced over time with normal use. You can always order more replacement parts by visiting the KandyPens website.
My Experience With The SkyCloud Vaporizer
For roughly two weeks the SkyCloud was my go-to vape pen. I mostly put soft concentrates in my KandyPens vape, but I have tried a little bit of dry herbs in it as well. Both methods provided me with an OK vaporizing experience overall, with my main complaint being how hot the hits can get when you inhale for the full amount of time. As an asthmatic, I am always on the search for a portable vaporizer that has a heat regulator/controller in it. This ensures the unit never heats up past a certain temperature, keeping your hits just hot enough to vaporize without burning the concentrate (or your throat). Unfortunately the technology to do this does not exist at this price point, so the unit is designed to automatically cut off after ~10 seconds — much longer than the traditional 5-6 seconds of other pen vaporizers.
At first glance, you may be thinking this vaporizer pen looks just like a Cloud Vape or a Micro G-Pen. Although similar, there are some perks that KandyPens offers people that the other brands have not gotten around to yet. Most obvious and impressive is the ability to easily swap atomizers/heaters depending on what you want to vape. This is ideal for social people or those with limited access, as you will be able to use your pen in any situation you find yourself in. Having said that, the downside of buying from Kandy Pens is that the company is notoriously known for having terrible customer service.
I also like knowing the the SkyCloud won't come apart in my pocket due to a nifty feature that locks the atomizer into the battery. It's a small thing, but when I have my pockets full of stuff, the last thing I want to worry about is where the other half of my vape pen is at…
Unrelated but very helpful, I like the fact that there is a little lip on the refill chamber that is designed to conserve the amount of concentrate used and keep it from touching the heat source directly. This is unlike most current, popular atomizer designs that let the coils touch the concentrate directly (usually boasting large clouds of smoke). It may look cool… but you're really burning through money by having to constantly refill the pen after just 1-2 large rips.
Things To Consider When Buying A SkyCloud Vape
With a price point of $120 + $10 shipping and handling, the SkyCloud is by far one of the most expensive pen vapes (in this style) on the market. You do, however, receive 2 extra atomizers that are normally not included in competing brand offerings which are more of starter pieces than long-term investments.
I think that this unit should be cheaper — especially because the pen's atomizer is designed to die and be replaced over time. For this reason, I would also include some extra atomizers for such a high price tag — most likely at least 1 back-up for each method (dry herbs, oils, concentrates).
When considering that most of these companies are ordering bulk from the same companies overseas, you can't help but wander how many more portable vaporizer pens are going to look exactly like this one? Only time will tell…
Disclaimer: The SkyCloud personal vaporizer is NOT intended to be used to administer any medicinal product or any illegal product of any kind.
Best Deal From Around The Web