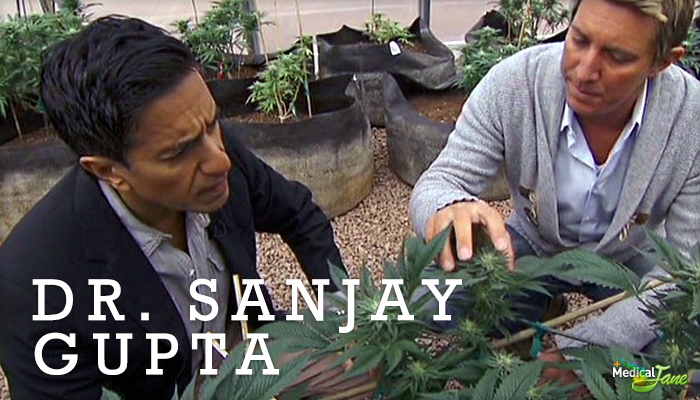 Dr. Sanjay Gupta, CNN Investigated The Truth About Cannabis
CNN Aired Dr. Sanjay Gupta's Documentary Sunday Night
It's a sad truth, many influential people choose not to endorse cannabis. Regardless of their personal beliefs about the plant, many people simply see it as a taboo subject and choose not to take a public stance. In turn, people hold to their false beliefs about cannabis and the vicious cycle continues.
The only way to break this vicious cycle is for people to come forward and present the benefits of cannabis backed by facts and solid reasoning. Last night's CNN documentary, "Weed" may have finally paved the way for other influential personalities to come forth and endorse this plant for its medicinal benefits.
"I apologize because I didn't look hard enough, for now. I didn't look far enough. I didn't review papers from smaller labs in other countries doing some remarkable research, and I was too dismissive of the loud chorus of legitimate patients whose symptoms improved on cannabis." – Dr. Sanjay Gupta
Dr. Sanjay Gupta, an Atlanta neurosurgeon and CNN's chief medical correspondent,spent a full year investigating cannabis for his documentary Weedthat aired Sunday. After completing the documentary, he had completely changed his stance on cannabis. Previously in 2009, Dr. Gupta authored a piece entitled "Why I Would Vote No on Pot." I think the name is self-explanatory. To his credit though, Dr. Gupta has since opened his mind to the idea and will be the first person to admit he was wrong.
Before the release of his documentary, Dr. Gupta published an op-ed on CNN.com called "Why I Changed My Mind on Weed."In essence, he admitted that he relied too much upon American research and the DEA for his information on the plant. He figured that cannabis had to be in the most dangerous category of drugs for good reason. However, it didn't take much for him to realize he was hugely mistaken.

Dr. Gupta Found Compelling Evidence in Favor of Cannabis
Weed starts with the story of Charlotte Figi and entwines a few other cannabis success stories throughout. Though the doctor presented many benefits of cannabis use, the documentary was not one sided by any means. Dr. Gupta also presented some precautionary information about cannabis, especially regarding use at an early age (i.e. puberty, or younger than 16).
His concern with children "using" cannabis at a young age is that the brain is still developing at this stage, and cannabis use may have some negative effects on this development. However, I wish they would've made it more clear that by "use" they meant smoking cannabis. Clearly it is not harmful for children to consume cannabis oils, as we saw in the case of Charlotte Figi. Who is to say that children shouldn't have cannabis in their regular diet? After all, we already know that cannabinoids are one of the first things a child receives from their mother in her breast milk. But, I digress…
In Dr. Gupta's op-ed, as well the documentary, Dr. Gupta emphasizes the fact that American cannabis research has previously been extremely limited. According to him, only 6% of cannabis research in the US is designed to show its benefits. Because of this, finding benefits of cannabis in these reports can be like looking for a needle in a haystack.
"We have been terribly and systematically misled for nearly 70 years in the United States, and I apologize for my own role in that" – Dr. Sanjay Gupta
Much of this problem is due to availability. Not only does research require cannabis for the experiment, which is still illegal federally, but it calls for approval. The approval process is a tedious one, and depending on what the study is investigating, it must first be approved by National Institute for Neurological Disorders, National Cancer Society, and so on. If cannabis is involved, it must be approved by the National Institute of Drug Abuse as well.
The bureaucracy of the US system flies in the face of logic and causes us to fall behind in the scientific study of cannabis. Countries like Spain and Israel are studying cannabis in a variety of applications and finding amazing results. Studies from Israel, in particular, have found cannabis to be beneficial for heart health and to protect the brain.
Dr. Gupta's documentary even showed his travels to Israel where cannabis testing has been underway on humans for years. The hospitals he visited were filled with patients being treated with the same plant demonized in America, with success. Chemotherapy patients were even vaporizing cannabis using a Volcano Vaporizer inthe hospital to treat their nausea after treatments; it was surreal to watch.
Will Weed Change How People View Cannabis?
Dr. Gupta's documentary did a great job of presenting the facts about cannabis to a large audience. It certainly would be a pie-in-the-sky mentality to believe that one documentary is going to make America more accepting towards cannabis, but it's a good start. There is a long list of evidence to the benefits of cannabis and this is the first step toward spreading the knowledge.
Once it has been made available, the evidence about cannabis will speak for it self. Dr. Sanjay Gupta has promised to help contribute to the sharing of this knowledge. Although it will be difficult to convince everyone of the benefits of cannabis, Dr. Gupta's documentary may affect a great deal of people. He was named one of the most 10 most influential celebrities by Forbes Magazine in 2011, after all.