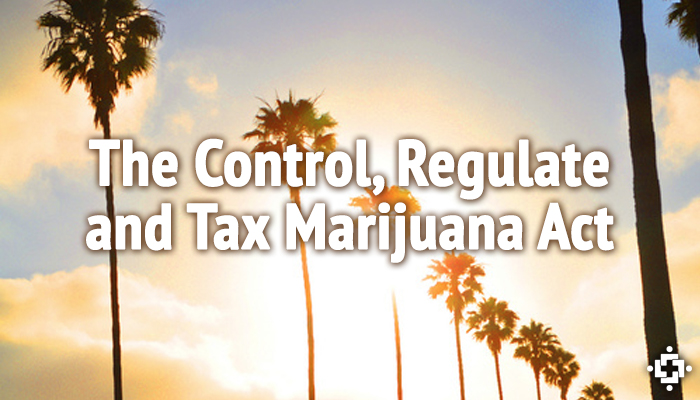 Activists Introduce Another Legal Cannabis Initiative In California
SACRAMENTO, CA — Last week, The Drug Policy Alliance (DPA) filed The Control, Regulate and Tax Marijuana Actwith the Califronia Attorney General's office. If passed, the measure would allow those 21 and over to possess up to one ounce of cannabis and grow as many as four plants from home.
The proposed initiative would also create a statewide system of cannabis regulation, imposing a 25% tax on retail sales. With that said, The Drug Policy Alliance has not yet decided whether it will campaign to place The Control Regulate and Tax Marijuana Act on the 2014 ballot in California.
In 2010, California attempted to pass similar legislation to that passed by Colorado and Washington residents two years later – one that supports the adult-use of cannabis. However, California voters failed to pass the Prop. 19 ballot measure in what many considered a blow to the reform movement.
In the time since, California's failure in 2010 has often been attributed to poor voter turnout. The initiatives in Colorado and Washington were passed by popular vote in a presidential election year, which routinely draw more people to the polls. In fact, Oregon came within three percentage points of legalizing cannabis in the 2012 election as well.
Accordingly, a number of cannabis reform figureheads in California agreed to focus their legalization efforts towards the 2016 presidential election. The consortium that came to this agreement is reported to include the Drug Policy Alliance, California NORML, the Coalition for Cannabis Policy Reform, the ACLU of California, the Marijuana Policy Project.
Drug Policy Alliance Files Legal Cannabis Initiative In CA
Past discussions aside, the Drug Policy Alliance believes that recent developments in the cannabis reform movement suggest that a responsible ballot initiative could gain serious traction in California. A recent Gallup Poll revealed that 58 percent of Americans believe cannabis should be legal for adult-use and a Tulchin Poll found that the same was true for 65 percent of likely California voters.

"Filing this initiative is making sure that there is a viable initiative vehicle if we go forward in 2014." – Steve Gutwillig
Steve Gutwillig, the Drug Policy Alliance's Deputy Director of Programs, explained, "Filing this initiative is making sure that there is a viable initiative vehicle if we go forward in 2014. We think it reflects what the voters will support."
Gutwillig further clarified that DPA has not yet made a decision on if they will pursue the 2014 ballot, but one is expected early next year.
It should be noted that The Control, Regulate and Tax Marijuana Act is the third pending measure filed with the intent to legalize cannabis in California. The California Marijuana Control, Legalization, and Revenue Act (MCLR), and open-sourced initiative, was filed in October and the California Cannabis Hemp Initiative of 2014 is in the signature-gathering phase.
Dale Gieringer, the head of California NORML, told The Daily Chronic that he does not believe this will be of benefit to patients. "The fact that we have three initiatives proposed for 2014 shows a relative lack of unity and a lack of adequate consultation among the various groups," he said.
Gieringer further explained that it will vital for any prospective ballot initiative to address the issue of medical marijuana. "We would have two systems, one with a special tax, one without," he explained. "Guess which one most people would patronize."
Should the Drug Policy Alliance elect to pursue a 2014 ballot initiative, they would need 500,000 valid signatures by April. State officials have 60 days to release a ballot summary and allow the DPA to start gathering signatures.

Drug Policy Alliance (DPA)
The Drug Policy Alliance is among the most prominent organizations for drug policy reform in America. The group was founded in 2000 and its focus spans from medical marijuana to youth drug education.In addition to …