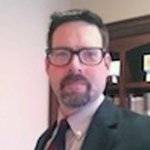 Biography
Chris Lindsey is a Legislative Analyst in the Marijuana Policy Project's State Policies Department. Accordingly, he works with community leaders, lobbyists, and legislators in over a dozen states and U.S. territories to change marijuana laws. He evaluates and drafts legislation, lobbies in support of improved marijuana laws, and communicates with supporters on behalf of MPP.
Chris has been active in the medical marijuana community in Montana since 2008. He has testified before legislators and committees, conducted legal seminars, participated in legislative work groups to establish a regulatory framework for medical marijuana, and lobbied on behalf of marijuana organizations. Chris has published numerous articles on criminal law and societal change related to marijuana.
Chris is a medical marijuana attorney and has brought cases to the Montana Supreme Court in both civil and criminal matters on behalf of medical marijuana caregivers and patients. He has also seen the harsh side of federal prohibition policies. In 2011, he was charged as a co-conspirator for violating federal law due to his participation in a 2009 medical marijuana business following several highly-publicized raids. Chris lives in Missoula, Montana with his wife and son.
Companies
Marijuana Policy Project (MPP)
Legislative Analyst
The Marijuana Policy Project was founded in 1995 in Washington, DC. The founders were members of NORML, but felt the organization should be more proactive. In turn, they broke away and started the MPP. In the time since its inception, the Marijuana Policy Project has garnered support from a number of influential parties and their advisory board includes celebrities like Jack Black, Bill Maher, Adrienne Curry, and Jesse Ventura. They have been instrumental to a number of changes in cannabis policy at the state level and aims to have the same effect on a national scale.
In The News
Missouri Representative Introduces Measure To Legalize Cannabis For Adult-Use
JEFFERSON CITY, MO — State Representative Chris Kelly (D) introduced a measure Wednesday to regulate cannabis like alcohol in Missouri. "It's time for a better approach in the 'Show-Me' state." – Chris Lindsay If passed, House Bill 1659 would permit Missouri residents to possess, consume, and cultivate limited amounts of cannabis. Following in the steps of Colorado, the measure would also establish regulations for retail cannabis throughout the state. "By regulating adult use, the state can replace the underground market, …
Tennessee Legislator Files New Medical Marijuana Initiative
NASHVILLE, TN — Rep. Sherry Jones (D-Nashville) has filed an initiative to allow limited access to medical cannabis in the State of Tennessee. As written, House Bill 1385 – the Koozer-Kuhn Medical Cannabis Act – would call for the state to establish a regulatory system similar to states with medical marijuana already on the books. The bill is named in honor of two Tennessee natives, according to Chris Lindsey, Legislative Analyst for the Marijuana Policy Project (MPP). Piper Koozer is a child from Tennessee who suffers …
Medical Marijuana Pilot Program Officially Takes Effect In Illinois
SPRINGFIELD, IL — After passing a measure in 2013 to legalize medical cannabis in Illinois, the state's law officially took effect Wednesday morning. Prospective patients will likely be granted safe access to medical marijuana facilities towards the tail-end of 2014. The regulatory agencies tasked with overseeing the Illinois medical cannabis program – the Department of Public Health, Department of Agriculture, and Department of Financial and Professional Responsibilities – are expected to hold an assortment of public hearings over the next four months. They will be establishing the rules and forms that …