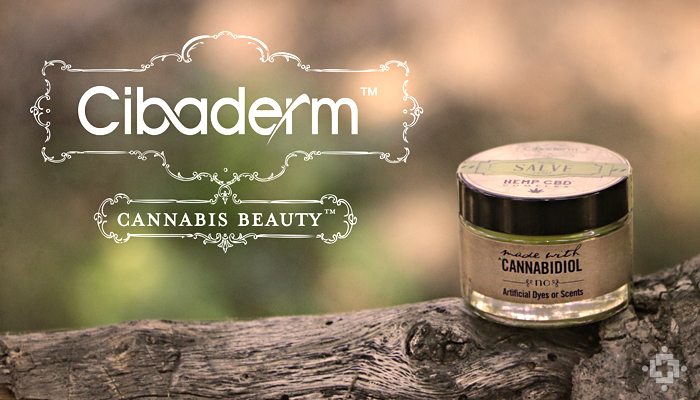 Cibaderm Hemp Calm Salve For Moisturizing Pain Relief
Cibaderm Hemp CBD Complex From HempMeds PX
HempMeds PX, the same people representing CanChew CBD-infused Gum, recently released their line of hemp-based personal care products – Cibaderm. The line includes shampoo, conditioner, body wash, body lotion, hand cream, and even a topical salve.
"HempMeds PX products are legal in all 50 states."
Each item in the Cibaderm family of products is made with their Hemp CBD Complex – "a unique extraction of the hemp plant." Furthermore, they are also infused with natural botanicals harnessed through steam distillation.
Cibaderm and the rest of the HempMeds PX products are made from imported industrial hemp. Due to this, they are legal in all 50 states!
What Is HempMeds PX?
Based in San Diego, HempMeds PX is a subsidiary of Medical Marijuana, Inc. (OTC: MJNA), a publicly traded company. According to the video below, which can also be found on their website, the company operates on the philosophy that "the best CBD starts from the best hemp."
Further, HempMeds PX claims to utilize a natural, responsible extraction process with an emphasis placed on sustainability.
Cibaderm Hemp Calm Salve: Hemp Relief
As mentioned, the Cibaderm Hemp Calm Salvecontains their Hemp CBD Complex. As the label reads, "the Hemp CBD Complex salve soothes minor aches and pains while replenishing moisture for smoother, softer-feeling skin."
Nonetheless, a topical analgesic called camphor is listed as the salve's active ingredient. The packaging offers the following information about the compound:
Temporarily relieves minor aches and pains of muscles and joints due to: Simple Backache, Arthritis, Strains, Sprains.
It should be noted, however, that the current line of Cibaderm Hemp Calm Salve no longer consists of camphor, and the company can make no claims to pain relief.
"Since camphor is an active ingredient and CBD is not FDA approved, there was a potential conflict," said a representative from HempMeds PX.
Accordingly, the Cibaderm salve is intended to serve as a cosmetic product with natural ingredients like almond oil and beeswax, in addition to a variety of herbal extracts. The company reports that the reformulated salve has "received rave reviews" from the trade shows that they have attended.
Our Thoughts On The Hemp CBD Complex Salve
The Cibaderm Hemp Calm salve is distributed in 1.3 0unce jars, which currently carry a retail price of $39.99. According to HempMeds PX, the salve is "never greasy," which is a sentiment I would have to agree with. To better explain, the consistency is similar to that of most lip balm varieties.
Its aroma was reminiscent of aloe and other botanical ointments of the sort. In fact, the salve's ability to act as a moisturizer was on par with those substances as well. I noticed that my skin felt considerably softer after just a few days of application.
More importantly, however, is the pain relief that the Cibaderm Hemp Calm salve seems to provide. We instructed a friend to apply a small amount on the joints of their fingers, where they were experiencing arthritic pain. According to them, there was notable relief — almost instantaneously.
"I found myself reaching for the Hemp Calm salve each time I felt the slightest amount of soreness."
Along those lines, I would have to add that I had a similar experience when using it to ease the pain I often experience in my neck. Of course, it was only minor pain for which I used The Hemp CBD Complex salve.
With that said, it would be pure speculation for me to say whether the salve could benefit patients with chronic pain. Nonetheless, I found myself reaching for the Hemp Calm salve each time I felt the slightest amount of soreness.
Those interested in the Cibaderm Hemp Calm Salve may find it on the Cibadermwebsite.