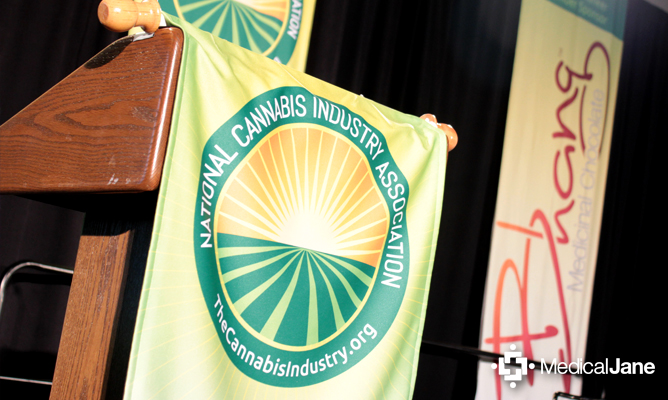 Cannabis Goes Corporate: The First National Cannabis Business Summit
Editor's Note: This article was written and photos provided by Matthew J. Cote – a marketing consultant that helps brands illuminate the ever-progressing conversation about medical cannabis and cannabinoid therapy.
Hundreds of cannabis industrialists filled the bustling auditorium: entrepreneurs, investors, thought-leaders, and capitalists stood eager to discuss industry challenges and their brilliant solutions at the first National Cannabis Business Summit in Denver, Colorado. The National Cannabis Industries Association (NCIA) has organized several professional events, but this was the first one geared to a national discussion in a state with legal cannabis already on the books.
It felt impossible to ignore the air of progress as the summit corralled more suits than tie-die worshippers. Instead of the dazed and confused archetypes expected at a cannabis event – NCIA drew eager, hard-working, and industrial pioneers ready to profit from the greenest gold rush in American history.
From Medical Marijuana To Commodified Cannabis
For the most part, medical cannabis has dominated the prohibition discussion since adult-use (recreational) legalization is only in its first year of "experimentation"; In November 2000, Colorado voters approved medical cannabis with Amendment 20 – and today, states including Alaska, Arizona, California, Colorado, Connecticut, DC, Delaware, Hawaii, Illinois, Maine, Maryland, Massachusetts, Michigan, Minnesota, Montana, Nevada, New Hampshire, New Jersey, New Mexico, Oregon, Rhode Island, Vermont, and Washington all have laws legalizing cannabis access for individuals with approved medical symptoms and conditions.
However, many of these laws are limiting to businesses which must navigate rigid guidelines when providing medicine to their state-legal markets. In California, for example, cannabis dispensaries must function as not-for-profit entities serving patients in possession of a Proposition 215 Recommendation and a California State ID. On the legalization side of things, while entities still must navigate strict guidelines and regulations, Colorado companies are able to function in a legal marketplace where they may serve anyone 21 years or older regardless of the state they call home.
"In 2014, Colorado has collected $6.17 million in tax revenue from the legal cannabis market"
On January 1, 2014, the enactment of Amendment 64 gave adults the freedom to grow up to six plants, possess an ounce of marijuana, and buy cannabis in a licensed retail facility without the threat of arrest or prosecution by authorities in Colorado. While the federal government still considers cannabis a schedule one narcotic under the Controlled Substances Act, Colorado has deployed effective representative democracy to introduce a new, safe, and nontoxic agricultural commodity to the local and national economies.
For the first time in 77 years, Americans in Colorado no longer get arrested for possession, cultivation, or the distribution of the crop called cannabis. Within months, Colorado has already experienced the benefits of replacing prohibition with legalization: the ACLU reported states spending $3.6 billion enforcing marijuana possession laws in 2010, while in 2014, Colorado has collected $6.17 million in tax revenue from the legal cannabis market: Gov. John Hickenlooper has even created a budget expecting $98 million in collections from legal marijuana taxes and licensing fees in 2014.
The legalization of cannabis in Colorado has seen a drop in overall crime of 10.1 percent compared to 2013, and violent crime has also decreased by 5.2 percent. Furthermore, it has created 10,000 jobs throughout the state and generated millions of dollars in taxes: these new tax revenues are destined for investment in education and health programs within the state. This stands in stark contrast to the millions of dollars most states waste on the conviction of citizens who possess or consume cannabis in a sensible and safe manner.
In the American experience, legal marijuana isn't something we're used to seeing: President Nixon launched the War on Drugs in 1971 and believed that those involved with the legalization of cannabis "weren't good people." In 1995, under Bill Clinton's presidency, 33 people were getting arrested for marijuana possession every hour! And while President Obama declared that his federal government would no longer incarcerate or raid the patients and dispensaries who remained in compliance with state marijuana laws, his administration has since facilitated the violent shutdown of California dispensaries by the DEA and federal prosecutors.
Since January, the trend leading up to the National Cannabis Business Summit was one of uneasiness, mystery, and sporadic support. But this multi-billion-dollar industry is growing like a weed, and the American businessperson is enthusiastic about the economic implications and opportunities ahead.
While 22 states have launched medical cannabis economies, only two have legal cabbabis for adult-use: Colorado and Washington. Washington's i502-compliant dispensaries commence business this summer, which leaves the entire world watching Colorado – the birthplace of a new American commodity.
The First National Cannabis Business Summit Hits Denver
Citizens from every state flocked to the NCIA Summit at the Colorado Convention Center; the bustling auditorium hosted companies with big ideas looking for big money; and, with a quick pass through the arena, it seemed obvious why California had such a massive presence: the experienced few wanted a bigger piece of the pie!
Groups like Auntie Dolores Edibles, who earned the vote for Best Pitch at the ArcView Group's event the night before NCIA, discussed their plans for national expansion with potential investors while other California brands, like Kiva Confections, also expressed growth plans for entering Nevada and Arizona. It seemed like the smartest groups from California hope to expand their businesses in other states immediately: after all, Colorado is the legal marketplace with a stability unseen in states like California, where few regulations are at work to add structure to the sprawling cannabis industry. And, while some brands scramble to take advantage of the growing opportunities, other California companies have already surpassed the earliest stages of a Cannabis Empire.
Bhang Capital, built by Scott Van Rixel, founder of Bhang Chocolate in Oakland, CA, announced his joint venture with Gevitta to introduce a CBD-enriched mint spray to anyone in need of instant relief from cannabidiol. Mr. Van Rixel, the pioneer sponsor of the NCIA Cannabis Business Summit, also launched Bhang Business Services; This financial network delivers exclusive discounts as Bhang collects valuable data about cannabis consumers: a new, diverse and mysterious demographic now entering the mainstream consumer culture. Mr. Van Rixel identified growth opportunities within the cannabis marketplace and has effectively diversified the Bhang brand into a multitude of enterprises. All of his effort seeks to increase the sophistication of cannabis as an industry – and the close affiliation between Bhang and NCIA shows a future where industry titans work together to make the future more welcoming to their chosen commodity.
Other thought-leaders have managed to establish themselves as powerful players within the space by solving specific problems facing the cannabis industry: Mark Goldfogel, founder of C4EverSystems, claims to have solved the banking issue by helping companies manage their cash businesses with an industry-specific ATM machine for cash-handling. Apeks Supercritical displayed their industrial equipment for botanical oil extraction, which caters to the increasing popularity of cannabis concentrates within both the medical and recreational cannabis markets. Unfortunately, the company's home state of Ohio has yet to enact laws that facilitate the business of cultivating, manufacturing, or distribution of cannabis.
This type of situation stands as a popular trend among the businesses at the Cannabis Business Summit: while attendees enjoy and indulge in the potential of a legal and well-regulated cannabis market, the rest of the country suffers from prohibition or unstable medical marijuana legislation.
Recap Of The First National Cannabis Business Summit
Everyone in the main auditorium chirped about opportunity, expansion, and investment, while those who chose to participate in the panel discussions expounded on the nature of the industry, the current legislative situations, and the implications and obligations of total legalization.
The crowds piled into rooms to engage with thought-leaders and pioneers as they discussed a variety of pressing issues, including: Best Practices in Cannabis; the Mechanization of Cultivation; the Political Landscape on a State-by-State and National Stage; the Expansion of Infused Product Businesses; the Future of Lab Testing; the Evolution of CannaBusiness Law; the Influx of Technology; the Science of Extraction; How to Talk to The Press; and a phenomenal discussion about the Elevation of Women in the Cannabis Industry, which stood in distinct parallel with simultaneous conversations happening in the tech industry and our globalized economy.
"With the advent of the National Cannabis Business Summit, medical marijuana has grown to become Commodified Cannabis."
The well-groomed audience made the NCIA Cannabis Business Summit feel like any other industry expo: the event buzzed with progress, professionalism, and innovation. Cannabis has introduced a new innovative bubble within the American economy.
While the rest of the world argues over job loss, corporate tax evasion, and unethical business practices, people of the cannabis industry discuss healthy alternative products, better solutions, and brighter futures for the people of Colorado and beyond.
The NCIA Cannabis Business Summit stood in stark contrast to the typical cannabis events like High Times Cannabis Cup, the HempCon Event, and many other marijuana-laden parties. The NCIA Summit was a glimpse into the future where the "stoner" mentality is marginalized, and cannabis becomes a respected industry.
With the advent of the National Cannabis Business Summit, medical marijuana has grown to become Commodified Cannabis; and in a world of pollution, pills, and profit – it's great to see cannabis offering a way to earn money by enacting change. The future will see a huge influx of cannabis products make their way into the life of the everyday American – and many of the companies facilitating and inventing that future will look back at the First National Cannabis Business Summit as a significant event in the monumental shift for American Cannabis.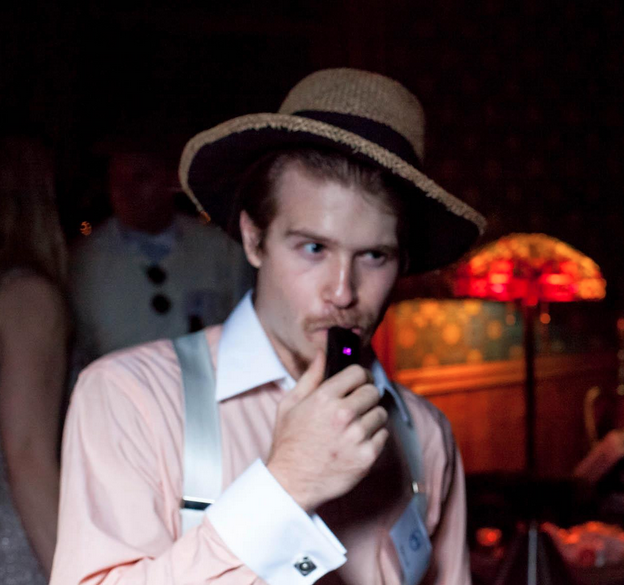 Matthew J. Cote
Matthew J. Cote is a marketing consultant that helps brands illuminate the ever-progressing conversation about medical cannabis and cannabinoid therapy. He works with collectives (BloomRoomSF & Medithrive DIRECT), Edible Manufacturers (Bhang Chocolate & Auntie Dolores), …