view full HD gallery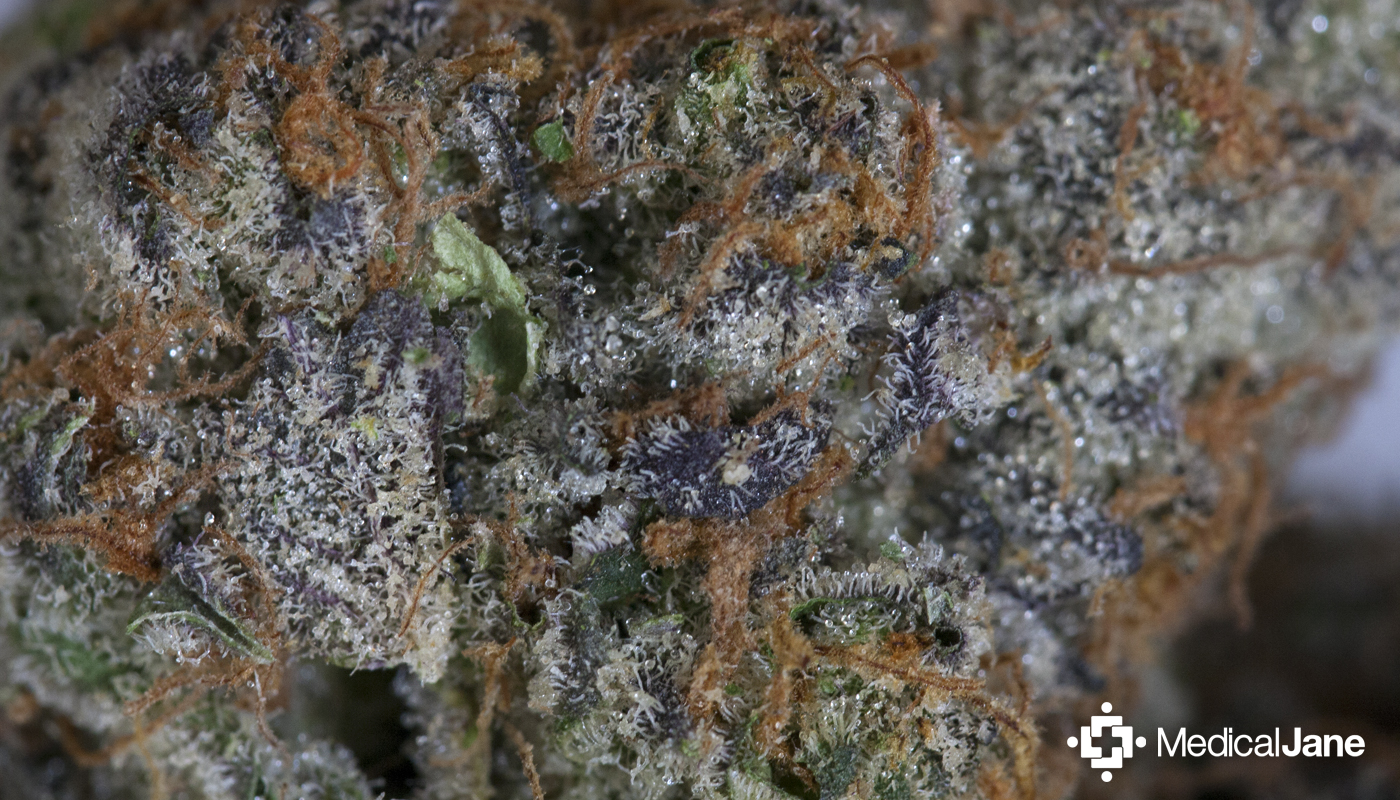 Grape Ape Strain For A Mellow Body Buzz
Stemming from legendary California genetics, the Grape Ape strain is an Indica-dominant hybrid. It is often celebrated for its purple hue and its effectiveness in treating pain and insomnia.
What Are The Genetics Of The Grape Ape Cannabis Strain?
When considering the lineage of the Grape Ape cannabis strain, one can easily assume that there is a great deal of "purple" influence sprinkled into the mix. Sure enough, Grape Ape is an Indica-dominant hybrid of the Mendocino Purps strain, Skunk #1, and an Afghani landrace.
The combination of the Mendo Purps and Afghani strains is known to bring about an intense body melt. That makes it ideal for patients suffering from insomnia or chronic pain.
However, Skunk #1 is a Sativa-dominant strain that tends to pass on an uplifting cerebral effect. This is somewhat true in the case of Grape Ape, but it tends to be outweighed by the heavier effects caused by the Mendocino Purps and Afghani strains.
How Will A Batch Of The Grape Ape Strain Affect Me?
I came across this particular batch of the Grape Ape strain at Buds & Roses Collective in Studio City, CA. As always, I was excited to see that it was grown using Kyle Kushman's Vegamatrix cultivation techniques.
As far as jar appeal goes, this veganically-grown Grape Ape certainly did not disappoint. The flowers were a beautiful mix of purple and deep green.
Interestingly, each individual flower seemed to have its own unique color. According to Aaron Justis, the Owner of Buds & Roses, this difference in color was completely dependent on which part of the plant that the flower originates from.
"Smoking the Grape Ape strain seemed to eliminate any pain throughout my body."
The Grape Ape strain's terpene profile seems very similar to that of Granddaddy Purple. Both strains have an intense berry aroma, making it hard to tell them apart based on smell alone. I likened the smell from this batch to a big bowl of Berry Kix.
This batch of the Grape Ape strain was a great representation of the strain overall. Smoking it seemed to eliminate any pain throughout my body, and it noticeably reduced the amount of tension I could feel in my neck and shoulders. It helped counter any anxiety as well.
With that said, large concentrations of the Grape Ape strain have a tendency to make patients groggy after a couple of hours. Accordingly, it is best to medicate with this strain at night. Consider the Grape Ape strain if you suffer from insomnia, chronic pain, chronic stress, or muscle spasms.