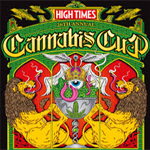 About this Event
HIGH TIMES has held the Cannabis Cup in Amsterdam at the end of each November since its inception in 1987. It is a cannabis festival that draws attendees and vendors from all over the world.
The event is centered around a competition in which breeders and coffeehouses alike submit their finest products to determine who takes home the crown. Awards given include: Best Sativa, Best Indica, Best Hash, Best Glass, and more.
With the evolving cannabis industry in the US, HIGH TIMES now holds various Cannabis Cup events in states with some form of legal cannabis.
The 2013 Cannabis Cup was held November 24-28 in Amsterdam.
You can learn more about the event at their website: http://www.cannabiscup.com/amsterdam.
In The News
Winners Of The 26th Annual HIGH TIMES Cannabis Cup Announced
HIGH TIMES Held The 26th Annual Cannabis Cup This Week In Amsterdam As we know, people celebrated Thanksgiving throughout the United States this Thursday. Surely, the majority of American's spent the holiday at home with friends and family, as is tradition. However, there is another tradition that took place Thursday as well, albeit on a different continent. The 26th Annual HIGH TIMES Cannabis Cup was held in Amsterdam this week (Nov. 24-28). Members of the cannabis community traveled from all corners of the earth to join in the celebration. The event was stacked with musical performances, informational workshops, panels, and …
2013 Hightimes Cannabis Cup Will Be Held In Amsterdam On November 24-28th
Although High Times is hosting the 1st official U.S. Cannabis Cup in Denver on 4/20, the 26th Cannabis Cup will still be held November 24-28 in Amsterdam. The event will showcase Amsterdam coffee shops best cannabis and hashish, in addition to the best seed stores and hemp products the industry has to offer. You Be The Judge The Cannabis Cup was started in 1987, and continues to attract thousands of cannabis enthusiasts from around the world year after year. Smokers celebrate at 4:20 both in the AM and PM, and the best part about the event is that …