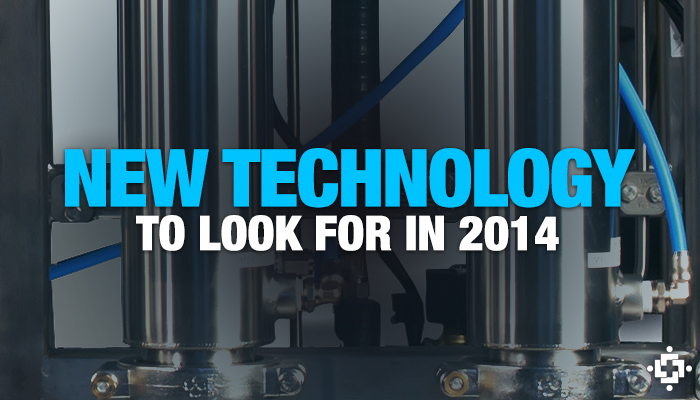 Innovative Technology Could Take The Cannabis Industry By Storm In 2014
As we know, the veil of cannabis prohibition was lifted in Colorado last week. Thousands of people have answered the call by flocking to the Centennial State in search of their first retail cannabis experience. This has some entrepreneurs chomping at the bit for their share of the market.
The beginning of each year brings about new hope for business owners, regardless in which industry one works. This sentiment seems to ring even truer in 2014 as cannabis makes its way to the limelight.
Entrepreneurs throughout the nation are hoping to win over consumers with the next big technology and lock in their position as a major player for years to come. Though it is still early in the year, there are a few companies with game-changing technology that could help push the industry forward in 2014.
Manufacturers Race To Create The Perfect Portable Vaporizer
Sure, vaporizing cannabis is nothing new for the industry. There are a plenty of efficient stationary products on the market that allow patients to consume their cannabis in a manner that can be healthier than smoking and eating infused edibles.
"UpToke is slated to release their highly-anticipated Spyre Vaporizer early this year."
The issue: most of these machines are stationary units that require an electrical current at all times and cannot be used on the go.
Further, much ado has been made about the lack of an efficient portable vaporizer for use with dried cannabis flowers (buds).
Some of the most popular pen vaporizer models (Cloud V, O.Pen, Vaped, etc.) are reserved for use for cannabis concentrates and essential oils. Others simply do not stand up to the task at hand when consuming flowers, using conduction to heat the contents instead of convection.
Of course, this issue has not been lost on manufacturers and a few companies may be able to see the light at the end of the tunnel. The Thermovape Cera was a definite step in the right direction and the Medical Jane team looks forward to seeing what improvements they've made on their next model. Here is a preview of the past version of the Thermovape Cera (soon to be replaced):
With that said, UpToke is slated to release their highly-anticipated Spyre Vaporizer early this year. Jason Levin, the company's CEO, has built quite the buzz around the product with a bevy of features and intuitive design. It boasts all-day battery life, a built-in ceramic grinder, and a quartz heater that reaches 374 degrees Fahrenheit in just 2.5 seconds.
Supercritical Extraction Systems Prove Essential For The Industry
It is no secret that extracts (most notably cannabis concentrates), gained a great deal of attention in 2013. Of course, the "dabbing" community is not always well received and has even been condemned in some circles.
This is largely due to horror stories of amateur hash-makers attempting to produce butane honey oil (BHO). Traditionally, the process involves "blasting" supercritical fluid (i.e. butane) through an open column to extract the essential oils in cannabis.
However, this process can be dangerous when not performed in the proper environment. It has been implicated as the cause in a number of home explosions, sparking debate about whether cannabis concentrates should be excluded from legal cannabis policies as they spread to more states.
Accordingly, a number of hash makers are making the switch to closed-loop extraction systems in hopes of obtaining better control and more safety compared to blasting.
Of course, this technology is not entirely new. There are a number of products already on the market and it is evolving quickly.
"Apeks Supercritical, received a great deal of investor interest last year and they seem to have set the table for success in 2014."
Emotek Labs recently collaborated with TC Labs and TerpX to win first place at the 2013 Cannabis Cup, proving that top shelf concentrates can be produced through closed-loop extractions. Their extraction systems stand out for this reason, in addition to the fact that each unit is ISO-certified.
Another company, Apeks Supercritical, received a great deal of investor interest last year and they seem to have set the table for success in 2014. The company builds a number of systems that utilize CO2 as a supercritical fluid and as a liquid solvent. Their extraction systems use patent-pending Valveless Expansion Technology to prevent clogging during the extraction process and allows for complete automation.
Technology Software Infiltrates The Cannabis Industry
Of course, the cannabis industry will not only be influenced by hardware and physical equipment in 2014. It's obvious to me that the industry has drawn the attention from professionals with all sorts of backgrounds. One of the most noteworthy shifts to push the industry forward has been the successful transition of more and more talented individuals from the tech world.
"TriQ Systems integrates their TriQsoft business management technology to oversee product, processing, and manufacturing."
There are already a number of noteworthy players as far as cannabis tech is concerned and new software seems to present itself each week. Some are geared towards end users, whereas others take more of a B2B approach. In either case, new advancements in software will be vital in propelling the industry forward.
A number of business owners are looking to streamline their operations as legal cannabis begins to spread through the nation. GrowBuddy had a bit of a head start in this regard, offering farmers a software solution to track the growth cycle of their plants.
However, more demand will require adjustments to be made, sometimes on the fly, and a system in place to oversee production. In lieu of hiring additional staff to handle the required tasks, some entrepreneurs are opting for a technological solution.
Partnering with companies like Apeks Supercritical and Canntrol, TriQ Systems integrates their TriQsoft business management technology to oversee product, processing, and manufacturing. In turn, guess work is eliminated and the risk of human error is greatly reduced.
Innovative Technology Propels The Industry Forward
States seem to be approaching legal cannabis policies with an increasing amount of vigor lately. As previously reported, ArcView Market Research has predicted a 64% increase in the market from 2013 ($1.43 billion) to 2014 ($2.34 billion).
Further, the response from Colorado's first week of retail cannabis sales seems to have added a bit of motivation for other states to follow suit. Washington State will launch a similar system in just a few months and the illegality of home-cultivation is expected to produce even more consumer interest.
As in any market, the road to success will be paved with hard work and innovation. The cannabis industry presents an interesting opportunity for progress at this point in history. Innovators who continue to push the boundaries will find their niche as the industry flourishes in the years to come.